Yep, we made wine.  This past June Dave and I were driving along and saw these signs stuck in the ground along the road that said winery.  We could not figure out where on earth a winery would fit back in this little neighborhood.  About a week later saw this ad in our coupon mailer for wine classes.   So we decided to go by and check it out.  Turns out there is a winery back in this little neighborhood in a small shopping center and they have FREE wine tastings.  Well if there is one thing I like, it's free stuff.
For my local friends if you get a chance to stop by and check out
Bacchus Winery
, enjoy a free wine tasting and learn more about taking a class.
Turns out this little hidden gem offered really great wine and offered classes on how to make wine.  We wanted to sign up for the July class but the classes were full until October.  How cool.  Anyway at first I was going to sign up alone but it turns out it is a paired class so Dave decided to sign up too.  Bonus not only would we learn to make wine, but we got to take the class together.  What a great experience.
Hal, who is an amazing instructor and shop owner, gives a class that is so much more than just a class, along with learning about the steps to making a good wine, I feel like my brain grew ten sizes, yippee it needed that, lol.  Just kidding, but truly we learned all the technical stuff in a way that was not boring nor confusing.  We even gained knowledge of the history or wine.  Each class ended with a wine and food pairing, what a treat.
Another bonus was it was a good social opportunity for Dave and I.  It is nice to grow and make new friends.
We bottled our wine and shared lots of it as gifts for Christmas.  Now we have a bunch for our wine shelf too.  My goal is to test it and see what length of time is good to leave it sitting before it is perfect to drink.
By our second week of class we knew we wanted to start another batch brewing so we are now about a week away from bottling our next batch.
Here are some of the pictures of our winemaking process.
Day 1 mixing it up.
Checking the specific gravity
In process
Moving it ever so carefully so as not to shake it up too much.
Racking to a new carboy (see I got the lingo down)
And bottled and feeling ever so accomplished.
Here's one of the later wines we made, because apparently I forgot to photograph our finished product with the custom label I made for it.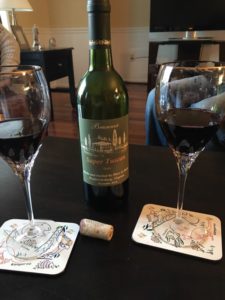 Peace, Love & Joy
Dawn
Disclosure: Please bear in mind that some of the links in this post may be affiliate links and if you go through them to make a purchase I will earn a commission. I will note when a post doesn't contain any affiliate links as well. Keep in mind that I link these companies and their products because of their quality and not because of the commission I receive from your purchases. The decision is yours, and whether or not you decide to buy something is completely up to you. Note that the wineries and B & B's don't contain affiliate links at this time.
Please follow and like us: