We often hear, how many wineries did you go to? Then I feel a little shy like folks might be judging us when they ask in that surprised voice, lol.
What is our secret? How do we visit multiple wineries in one day without overdoing it? No big secret. We share a tasting or as the case may be at the moment we share a flight. Most places are only doing self-guided flights or tastings due to Covid. First of all, it is a money saver and second of all when we go on a trip like this we are simply wanting to see what various wineries have to offer and if we would like to add a bottle or two of their wine to our stash at home.
While we prefer tastings, the flights actually made it much easier on this trip, since most are only 4 or 5 tastings and 1 or 2 ounces in size. They're just enough to gather the necessary information.
We'll usually pick a spot to include a snack. For example, one of our favorites on this last trip was Sunset Hills Vineyard. They offered such a nice array of foods, so we knew this was the spot to grab a bite. We had their sourdough bread and some delicious fresh mozzarella. Pure heaven! We opted to also have a warm mulled wine here. Normally we stay away from a glass or cup of anything on these trips. We used to have a flight on one of the stops that offered them, so we could sit and relax a bit. No need here because with Covid flights were abundant and the only option. So we did get a lot more time to chit chat and sit and take the location in a bit more.
So our big trick is we share. We share a single flight at each stop and when we opt for a treat like the mulled wine we share just one. Truly these trips are for us to just be together, check out the beautiful scenery and pick up some bottles for our stash.
We take our time. We make sure to start the day with a hearty breakfast and either pack our midday snack or choose to grab a hearty bite midday at one of the wineries. We start early when we are fresh and depending on the day we may have a long drawn out day, stopping at some sights or shopping in between or we end the winery portion of the day early and shop, go on an adventure, find a new coffee shop to try and feed our other favorite habit…COFFEE!
This last trip was actually a very light trip, while we visited quite a few wineries, we came home with less. It would have been a good bit less but we happened on Rappahannock Cellars and we fell in love, lol. So the case in the front along with 3 more bottles in the group are from there. Where else can you get a case of wine 50% off if you are a wine club member? There are others I'm sure but this was the first one I've come across. Plus we had a stellar experience there. I'll tell you more in next Wednesday's post.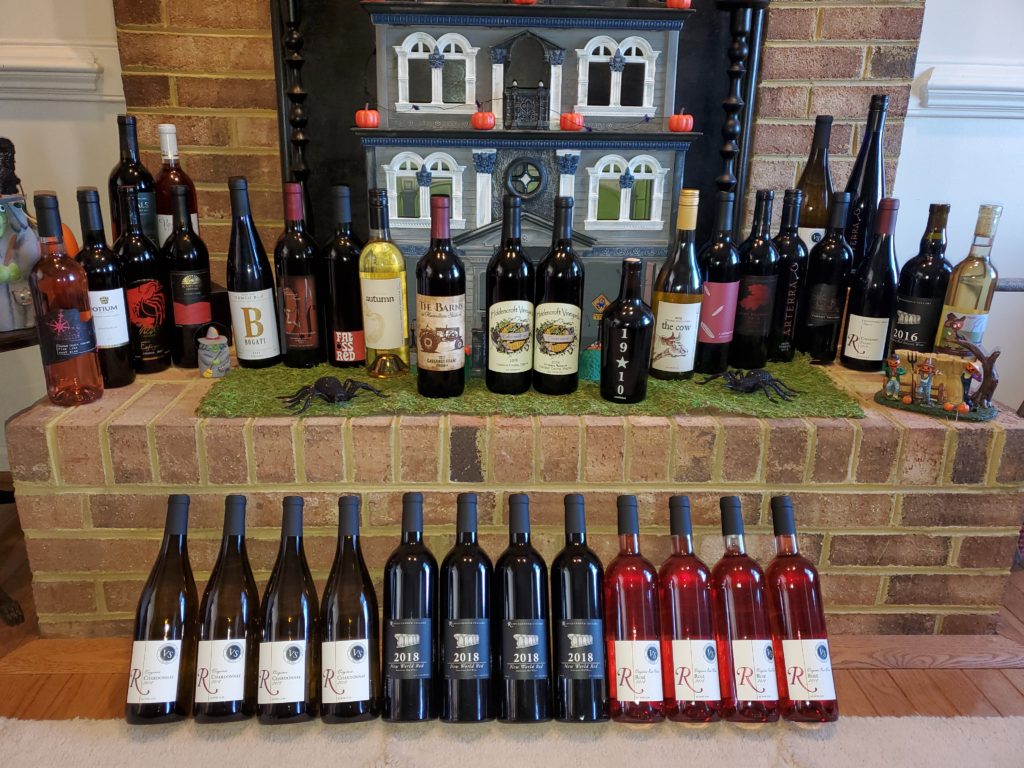 Disclosure: Please bear in mind that some of the links in this post may be affiliate links and if you go through them to make a purchase I will earn a commission. I will note when a post doesn't contain any affiliate links as well. Keep in mind that I link these companies and their products because of their quality and not because of the commission I receive from your purchases. The decision is yours, and whether or not you decide to buy something is completely up to you. Note that the wineries and B & B's don't contain affiliate links at this time.
Please follow and like us: